I recently mentioned the new site Blogrush and how it could be added to Christian websites. One of the issues raised was the current lack of categories available to position your blog in. This can result in some blog titles being shown that you wouldn't want on your site. The big question is, regardless of how well Blogrush may or may not perform for you, is this is a risk worth taking? Are you willing to loose control over your sidebars and have sites recommended that you actually disagree with?
What is the worst that could happen?
The worst case scenario is that you end up having a glut of inappropriate blog post titles displayed on your site. For instance, I have already seen on my blog:
Free numerology reading
Free Sunnipath Course Clips on Youtube
Taurus (Astrology on the cusp)
On the face of it you may instantly feel that you are not willing to accept such titles on your blog. This is heightened for non-secular sites. If I was running a blog on my favourite football team it would not particularly bother me if there were posts about athletics or shopping included. However, as a Christian I'm not so keen on a site set up to promote the Christian faith and help Christians have content including mysticism.
How can you stop it?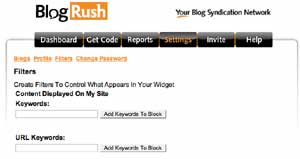 Blogrush has obviously thought of this, and included the option of blocking both specific websites and specific keywords from being included in the sites shown on your blog. I am in the process of adding various words and sites and will be interested to see in a couple of weeks the type of blog titles that are showing then.
It is also likely that future improvements will include the addition of more specific categories, so that for instance you would just have a Christian section. I am confident that this will be added soon based on the speed Blogrush are already implementing changes. There will be an updated post on the specific use of Blogrush in a couple of days, as an update to my initial post.
Of course, even with the best of your efforts, there will always be titles of posts that you would rather not be included.
Don't forget, it works both ways…
For me, I think this is a risk worth taking. The key point being that this also means the Christian message will be making it on to non-Christian blogs too. I can fully understand that some may feel it would be detrimental to their site, but if Blogrush ends up being a success then I think the pros will outweigh the cons.