There has been a lot of interest recently about a new website called BlogRush. BlogRush is free, and is designed to increase traffic to your site. It achieves this by adding an item in your sidebar that shows 5 feeds from around the web, and will also show your feed headings in other blogs. You can get a good rundown in a video on their website.
So will it work?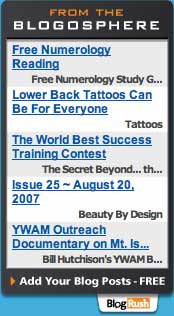 My initial concern about how well it will work on Christian sites is the lack of categories. The closest match is a category called "Religion and Spirituality", which as you can imagine is rather broad in scope. You can see from the box on the right, that this throws up a large variety of posts – many distinctly non-Christian! BlogRush also mention that they use other techniques to improve relevancy. If this is similar to the methods google use it may take a few posts to gage what type of content they will include. Certainly when I looked at the posts chosen one day later they were more focused on Christianity.
There is an option to exclude any given keywords or ULRs which will certainly improve the quality of blogs shown, but this may end up being a rather time consuming process, as I expect the number of different blogs shown will be large.
The other major question is simply whether it will generate any new visitors! The initial signs from ProBlogger were not amazing, with a click-through rate of just 0.05%! The suggestion from those stats (and the other people commenting) is that BlogRush will most certainly not create a rush of visitors.
Summary
The initial signs are not promising for BlogRush. The click through rate is abysmal at under 0.1%. Also, there is the risk of adding content to your site that you would rather not have. I have decided to try it out for a week or two and see what happens but I would not be surprised if I dump it soon after…
Links