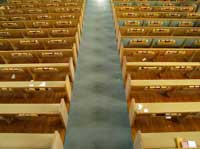 Three months after the launch of free Christian resources I began to put a lot of effort into finding and tweaking the theme/design that I wanted. Finally, as the year almost closes I think I am generally happy with the look of the website! There were so many superb websites reviewed over the three months ending in September, but here are the pick of the posts:
Desiring God
Desiring God is without a doubt one of the finest Christian websites on the internet. John Piper has put all of his sermons and books from the last twenty five years online for free. Not only that but they are high quality products, and the website is superbly designed.
Free Hillsong mp3
Throughout the course of the year many fantastic free and legal songs have been recommended. This is up there as one of the best.

My first sermon
I had the nerve-racking experience of doing my first sermon in August. In this post I explained the free things that I found the most useful to help me prepare.
YouVerison launches
Whilst YouVersion is still in beta stage it has come a long way and is in a usable format. It is an exciting website, and I expect in 2008 it will really become both popular and useful.