As a break from my normal posting routine here is a YouTube video based on still pictures of the Passion of Christ. It is very thought provoking and makes you top and take in the scriptures.
Thank you Jesus…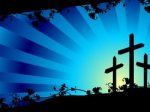 Find more Easter resources
You can find extra free Easter stuff including sermons, cards, music, clip art, devotions and much more at the Easter page.
image by dtcchc.