fCr rating:

High quality free Christian songs available for download

Goombah is a music website that sources free digital tracks from nearly 1,000 record labels, and offers these to members to download at no cost. It is used as a promotional vehicle by the record labels, so it is all 100% legal and legitimate.
Goombah is not set up purely for Christian music, but due to its large size it still has a good collection of choices available. It does not allow people to submit their own songs yet, they are all sourced directly from the record labels. The advantage of this is that the quality of music is high.
Goombah say of their purpose is
…to build the most meaningful music community by providing an easy way for music lovers to discover new music and rediscover old favorites, and for artists to find their audience. Dictionary.com defines "goombah" as "a companion or associate, especially an older friend who acts as a patron, protector, or adviser." At Goombah, we are all about helping users find great music that is uniquely suited to their taste.
In this review I'm not going to suggest individual Christian artists, but I will be in the future. You can see these by going to the Goombah tag here, or simply browsing the collection of free songs.
So how do I get the free songs!
You need to become a member of Goombah first, but this is very straightforward, quick and free. Then go the free mp3 section and select 'Christian & Gospel" or "Religious" (although the Religious section doesn't have much in at the moment). After a while loading , you will be presented with a list of songs (see the picture below) that you can choose from…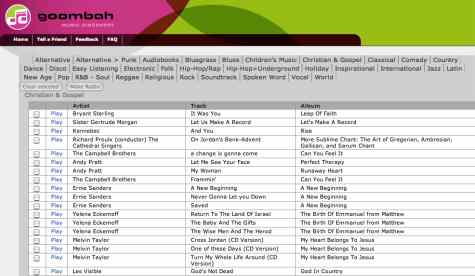 The next step is to set up the online radio so that you can listen to the songs you want to. Click on the box to the left of any songs you want to download, and then click on the 'Make Radio' button. You can play each of the songs individually on this page too if you like, but it is easier to use the radio option. This will then open a new window in your browser (per the screenshot below) and start playing the songs/s you have chosen. You can just use it as online radio, or access the free downloads from here.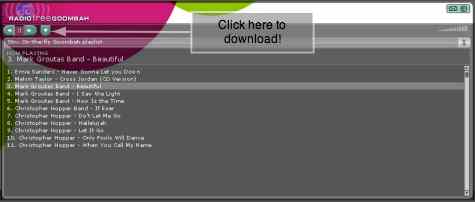 To download a song just click onto the down arrow (highlighted in the picture above) and it will download the file and automatically load it into iTunes! That is it! You can also choose to email this selection to a friend, or even add a widget into your website with those tracks. You can see this in action at free Christian resources by clicking here. The great thing about this is that the widget then allows the visitors to your website to listen to or download any songs they like!
Have suggestions based on your playlists…
One of the other key aspects of Goombah is that it can suggest songs that you might like. You can let it have access to your iTunes playlist and it will suggest artists based on what you listen too most. This is a fun feature and throws up some really good bands you won't have heard of.
Summary
Goombah music is a very powerful and high quality website. It can be slightly slow, but the option of adding widgets to your own website really makes it a superb place to visit.
Strengths
High Quality, free and legal songs
Good choice of songs (and growing)
Weaknesses
Can be slow to load the pages
Links
Main Goombah website: http://www.goombah.com/
Goombah free mp3s: http://radio.goombah.com/gfm/
free Christian resources Goombah page: http://www.freechristianresources.org/resources/music/goombah