fCr rating:

Top 25 Prayer and Worship Songs
main website | apple website
Find out the most popular Christian worship songs directly on your iPhone!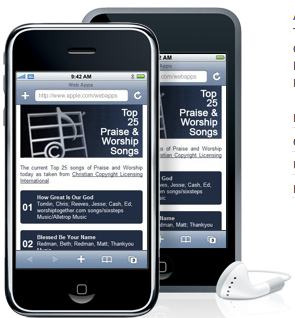 If you want to find out what the most popular Christian songs are your first stop is likely to be some of the great websites mentioned in the article "Find the most popular Christian songs" here at free Christian resources. But what if you are out an about with just your iPhone and prefer a website that is designed just for the iPhone?
If that is the case then this iPhone website may be just up your street. It shows the most popular Christian songs at the moment according to Christian Copyright Licensing International. (CCLI). This is probably the best gauge of what is popular as it is based on what churches are playing now (of copyrighted music) rather than what may be a new album selling in the charts.
I suspect this will be most useful to worship leaders who want to keep up to date with the most popular Christian songs of the moment. Currently it is purely a list. It would be great if it linked to the artists homepage or myspace pages.
Here is the current top three:
1) How Great Is Our God (Tomlin, Chris)
2) Blessed Be Your Name (Redman, Beth; Redman, Matt)
3) Here I Am to Worship (Hughes, Tim)