There has been a lot of discussion on the internet about Blogrush this week – it seems you either love it or hate it with a passion! Many have lambasted the perceived (or actual) weaknesses in the Blogrush set-up.
My initial post highlighted how many people were seeing very low click through rates. Darren Rowse, also known as ProBlogger, posted a message on free Christian resources adding that some were also seeing a 1% click though and that realistically it would be too soon to judge the validity of Blogrush.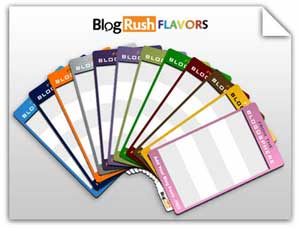 Too soon maybe, but I have been impressed by the speed with which Blogrush have responded to the various suggestions or criticisms. This really bodes well and shows that the Blogrush team will be very proactive in doing their utmost to make this project work. Within a week of launch the following improvements have already been made:
Different flavours
At launch you can only get the widget in black, but in a couple of days an array of colours will be available (per the picture above)
Manual review of blogs
All new blogs will be manually checked to ensure they are valid (i.e. not spam), and this will be retrospectively done for all of the current registered blogs.
Additional security measures
To further reduce spam
Specific religions!
This is great news, there will soon be a Christian section
So if you read my last Blogrush post, "Will Blogrush help or hinder your Christian website?" but felt it was not worth the effort, it may be worth getting on the bandwagon now and trying it out for yourself.
All of these changes show that Blogrush are trying to ensure the system is fair for small blogs,that there is an integrity to the blogs included, and that the post titles are more specific. I think the last two points in particular are important for Christian bloggers keen to ensure their blog is not diluted with inappropriate post titles.
None of this in itself means Blogrush will work, but it seems to me it is at least in very safe hands.