There are so many interesting little websites out there, and often the only way to find them is by using StumbleUpon. StumbleUpon is a great application that suggests websites that other people recommend for the categories that you choose. It is a great fun, and a good way to fill five minutes if you have a loose end whilst sitting in front of your computer.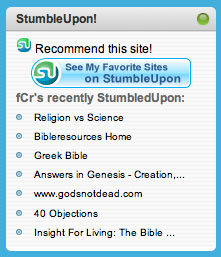 It made sense that free Christian resources should have its own StumbleUpon account, so that anyone that uses StumbleUpon can see what I'm currently looking at or have found. I have a added a StumbleUpon sidebar to this site which lets you do three things:
Suggest/recommend free Christian resources as a site you like
Go directly to the free Christian resources StumbleUpon page
See the latest websites that I have StumbledUpon
Happy stumbling!
You can check out the sites I have stumbled by clicking on the image below: