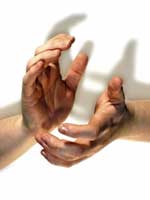 With the new year now well under way it is time to present the awards for the best free Christian resource websites for 2007. The number of awards have been limited to four, meaning many high quality Christian websites that would be worthy winners have not been mentioned. However, it is so exciting to write this blog and see so many superb Christian resources available on the internet. It is cheesy and Oscar-like to say it, but without them this website would not exist!
So without further ado, and with a drum roll in the background lets see who has won…
Best free Christian website : Desiring God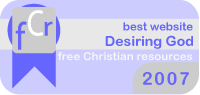 This award is for the website that has made the top contribution to free Christian resources in the year. The size of backing is taken into account, so if a small one-person website is punching above its weight it could well win!

Desiring God is the proud winner of the prestigious 'Best free Christian website' award from free Christian resources this year. Desiring God is an example to everyone in the distribution of Christian resources. Firstly all of John Pipers sermons and books from the last twenty five are available online free. Desiring God is presented superbly with most content available in in several different formats within a well structured website.
They are also very clear about why they feel content should be provided free when possible. This also makes them worthy winners of the main award as they are 100% committed to providing high quality free Christian resources. The main reasons they give are:
It demonstrates God's grace
It serves others most effectively
Far more of your content will spread, and it will spread to far more people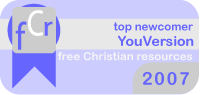 This award goes to a Christian website that has only begun in the year – or only really started to make a big impression in the year.

Whilst YouVersion is still in its Beta stage it is well advanced and is rapidly improving each month. YouVersion is a bible study package that allows videos, sermons, pictures and basically anything to be linked to bible verses and studies.
Before it gets even close to its full potential it will need both time and further tweaking. However I think the opportunity for YouVersion is huge. It will be exciting to see how this project grows in 2008.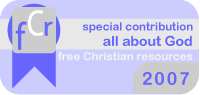 This award goes to a Christian website that has made a particularly good contribution to the Christian community. It could be anything from a well written blog to a website stuffed full of sermons!

All About God is an apologetics website, so it aims to answer any questions about Christianity. It does this is a clear and understandable way, and often a good first port of call whenever you have a query. However, the award has been given to All About God because of the way they keep the focus on Jesus. It is easy as Christians on the internet to forget that many non Christians will look at our websites. All About God give a great example of how to keep the gospel prominent on any website. This is certainly an area I'll be looking to develop on free Christian resources in 2008.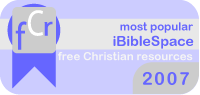 This award is for the website that has been the most popular amongst the readers of free Christian resources. It has been awarded based on the website that most people had clicked through to visit from this blog.

The clear winner was the iBibleSpace by AcroDesign Technologies, with 6% of all website visits from free Christian resources having gone to their website. This was no doubt in part due to the popularity of the best free iPhone bible post that I wrote. However,
iBibleSpace is a worthy winner having brought the bible to the iPhone in such a superb fashion. All iPhone users should check out their website!