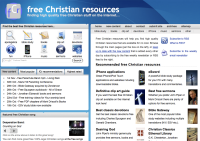 October was a busy month here at free Christian resources with the website going through a major redesign. The overall theme looks very similar but the layout and interlinking of the website have been improved. A new home page has also been created (with only a couple of minor tweaks still required) that should be much more useful than the old home page. Please let me know what you think!
This did reduce the amount of time spent reviewing other websites, but there were still some good resources added including:
Suffering and the Sovereignty of God by John Piper and Justin Taylor
This book includes various essays that reconcile the sovereignty of God with our suffering. Providing the whole book free will help many more Christians benefit from this book.
The sale, and then acquisition of Bible Gateway was highlighted. It is great news that this popular bible study website will continue to operate.
2008 Desiring God conference
The recordings (and text) for the 2008 Desiring God conference were provided, as ever the recordings are superb and bound to enrich your spiritual lives. John Piper and Mark Driscoll were among the preachers.
The ESV Study bible (Post 1, Post 2)
The ESV study bible was launched. Of course this is a paid for product, but they did provide some free sections which are worth looking at, and in themselves are comprehensive (e.g. the whole of 1 John and Esther)