Many may argue that facebook is a waste of your precious time, so why not add a bit of biblical truth to your page?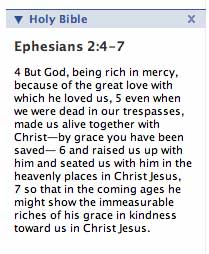 The ESV blog has recently promoted a facebook application that will do just that. The 'Holy Bible' application simply puts a random daily verse onto your facebook page for you or your visitors to view. Alternatively you can select it to display a specific verse.
It is simple to add, and has an unfussy design that will sit well in any facebook page.
Further changes are likely as the author Zachary Howe has asked for suggestions. One that he is working on is to allow personal comments to be added.
Website: http://www.facebook.com/apps/application.php?id=2365032839&b&ref=pd