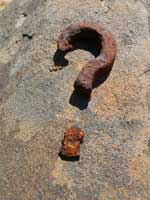 Apologetics is basically the defence of Christianity whether it be scientifically, biblically, philosophically, historically or some other form. So if you have any questions at all regarding Christianity – you'll be able to find the answer on the websites shown on this page!
There really is a wealth of content on the internet in several formats whether it be text, podcast or video. Similarly the whether you are after detailed answers or quick summaries there should be a website that will fit your needs.
You can either browse through the recent apologetic articles, or look at the articles below:
fCr rating:

Answers in Genesis
main website | fCr review | fCr blog posts
A large source of detailed answers to varied questions about Christianity.
fCr rating:

All About God
main website | fCr review | fCr blog posts
A great site with clear answers to many questions.
Other sites yet to be reviewed:
and also…
http://www.apologeticscourses.com/
http://www.biblicalarcheology.net/
http://www.tektonics.org/
http://www.rzim.org/
http://josiahconcept.org/
http://www.lifeway.com/
http://www.theapologiaproject.org/
http://www.christianlogic.com/