fCr rating:

BarlowGirl
Panis Angelicus
Download the songs here | BarlowGirl website | BarlowGirl myspace | iTickets
This free Christmas song is courtesy of iTickets, and is performed by BarlowGirl. It is only available for one week so make sure you act fast (you will need to log in to iTickets)! It is a beautiful song, although it is sung in Latin so it may be difficult for you to realize it is a Christmas song!
You can also get the lyrics at the iTickets website, both the Latin words that are sung, and the translation.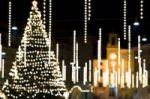 Find more Christmas songs and resources
You can find more free Christmas songs at the 'free Christmas songs' section. You can also find lots of other free Christmas stuff including sermons, advent calendars, music, clip art and much more at the Christmas page. image by rache.
Download the song here: