fCr rating:

Mahalia Jackson
Silent Night
Download the songs here | Mahalia Jackson website | Mahalia Jackson myspace | c|net
This free Christmas song is courtesy of c|net, and is performed by Mahalia Jackson. It is different in style from most of the songs highlighted at free Christian resources, and is by one of the most famous gospel singers of the last century (albeit remixed to a modern style!)
You can get the lyrics for Silent Night from the post 'The 40 most popular Christmas hymns'.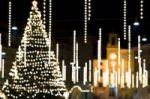 Find more Christmas songs and resources
You can find more free Christmas songs at the 'free Christmas songs' section. You can also find lots of other free Christmas stuff including sermons, advent calendars, music, clip art and much more at the Christmas page. image by rache.
Download the song here:
http://music.download.com/mahaliajackson/3600-10612_32-100041233.html?tag=MDL_chart_topdls_artist