fCr rating:

Martha Munizzi
O Come O Come Emmanuel, When he came, Peace on Earth
Download the songs here | Martha Munizzi website | Martha Munizzi myspace | Black Gospel Promo
This free Christmas song is courtesy of Black Gospel Promo, and is performed by Martha Munizzi. These three songs are gospel style, although you only get three minutes of each song (almost the whole song but a shame it had to be cut off none the less!)
You can get the lyrics for O Come O Come Emmanuel from the post 'The 40 most popular Christmas hymns'.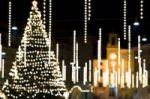 Find more Christmas songs and resources
You can find more free Christmas songs at the 'free Christmas songs' section. You can also find lots of other free Christmas stuff including sermons, advent calendars, music, clip art and much more at the Christmas page. image by rache.
Download the song here:
http://www.blackgospelpromo.com/viewpromo.php?promo_id=00340