fCr rating:

Travis Cottrell
O Holy Night
Download the songs here | Travis Cottrell website | Travis Cottrell myspace | Brickman Media
This free Christmas song is courtesy of Brickman Media, and is performed by Travis Cottrell. It is powerfully sung and has an almost theatrical and grand style to it.
You can get the lyrics for O Holy Night from the post 'The 40 most popular Christmas hymns'.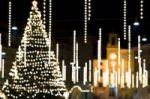 Find more Christmas songs and resources
You can find more free Christmas songs at the 'free Christmas songs' section. You can also find lots of other free Christmas stuff including sermons, advent calendars, music, clip art and much more at the Christmas page. image by rache.
Download the song here:
http://www.brickmanmedia.com/travis/christmas/