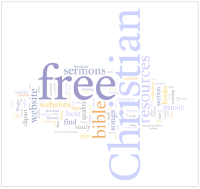 You can have a free professionally designed eBook that highlights the 25 top free Christian resources available at the moment. It includes the best Christian websites and resources covering areas such as bible study, books, music, sermons, website development, clipart and more besides.
All you have to do is sign up for a free newsletter here, and you will be sent a link to the download page.
There is no obligation to remain on the mailing list, you can cancel at any time if you decide you don't want the updates any more. However, the free newsletter has been designed to benefit you with the following advantages:
Updates as often as you want it (either daily, weekly or monthly)
You won't forget to check out the fantastic free Christian resources that are promoted here
You email is safe, we use a reputable email delivery service (aweber) and will never sell or give your details to any 3rd party
You will not miss out on any of the free Christian offers that are only available for a short time.
No obligation – cancel at any time simply by clicking on the unsubscribe link on any emails sent to you.
And of course as a thank you you will receive the free Christian eBook!.
This really is a no-risk offer, so simply go to the newsletter sign-up page and decide which of the newsletters you would like to receive.