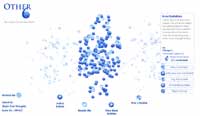 Other 6 is a website that simply asks: "Where have you found God today" or "Where do you need to find God today". The premise of the website is that if you need God's help or you have seen God at work in you life then you add it to this website.
It is a simple idea that is very well executed. As much as a website can be it is very peaceful and this is achieved both through the visuals and the subtle background noises. If you want to contribute you simply type in your comment and it appears as a little bubble on the screen. It is a great way to see how God is working in various peoples' lives.
Links
http://www.other6.com/
---
You can find more of the websites that I have given the thumbs up at my StumbleUpon page, or by looking at the StumbleUpon widget in the sidebar.