fCr rating:

iPhone Bible Hangman
main website | apple website
A simple hangman game based on words from the bible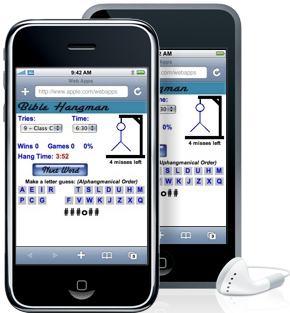 Bible Hangman is a version of hangman with a biblical theme. This version contains a dictionary of 8,935 words. You have the option to set the difficulty and time limit which help ensure it should remain challenging.
It includes a good mixture of words with plenty of names and places included. It is more difficult than normal hangman due to some of the obscure words, a couple of examples from my games were Peruda and Husham, and that was on the easy setting!
The graphical design is very basic and it would be great if this could be brought more in line with the coolness of the iPhone!