If you want to send online Christmas cards this year to save money or reduce your carbon footprint then here are the best three websites for cards with a Christian message.
There are plenty of other ecard websites but these have been picked because they have the best pictures and all are focused on the Christian message of Christmas. Please let me know if you find any other good websites!


Cross Daily has a selection of 52 free Christian Christmas cards available for you to choose from. You can highly personalize the message and formatting of the card to make sure it is exactly as you want.
You can also sign up for a free account at Cross Daily and get access to plenty of other Christian resources.


Heartlights Heart has 29 free Christian Christmas cards that you can send. You can add your own personalized message and even select a Christmas hymn to play in the background when it is viewed.
Heartlight's website also includes lots of devotions, graphics and articles that you may also find interesting to look through.




The Day Spring website cards tend to have animations, a few of which are Jesus focused.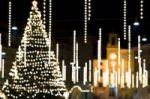 Find more Christmas songs and resources
You can find more free Christmas stuff including sermons, advent calendars, music, clip art and much more at the Christmas page. You can also find lots of free Christmas songs at the 'free Christmas songs' section. image by rache.