fCr rating:

Aaron Shust
God has come to Earth
Download the song here | Aaron Shust website |
Aaron Shust myspace | Blog.worship.com
This free Christmas song is courtesy of Blog.worship.com, and is written by Aaron Shust. If you like this song, you may also want to listen to Aaron Shust's version of O come, O come, Emmanuel which was recently highlighted at free Christian resources, this post also includes a YouTube video of Aaron Shust's version of Silent Night.
This song is based on the words of Martin Luther's Christmas Carol "All Praise To Thee Eternal Lord". It is another great song from Aaron Shust, and it is refreshing to have new Christmas songs written as well as old carols being covered.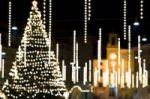 Find more Christmas songs and resources
You can find more free Christmas songs at the 'free Christmas songs' section. You can also find lots of other free Christmas stuff including sermons, advent calendars, music, clip art and much more at the Christmas page. image by rache.
Download the song here:

http://brashmusic.com/ftp_media/Aaron_Shust-God_Has_Come_To_Earth.mp3