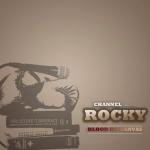 fCr rating:

Channel
Rocky
Download | Channel website | Channel myspace| KM Records/Red Ink Army
KM Records are providing a whole free Christian album called Rocky by Channel. Please note this is intented to be free only for those who can't afford to buy it, otherwise you can buy it or make a donation at the main website. You can listen to it all before you download it too, or check out the YouTube videos below.
Channel is part of the Red Ink Movement, and the lyrics are really strong and edifying. You can find out more about the Red Ink Movement here, but this is their mission:
We are committed to creating media geared toward making disciples and developing leaders to engage the culture right in their respective neighborhoods and communities.
I think this is what makes the album so good – the end goal is not just good music, but making disciples and leaders.
To get the download click on the 'Free Download' link on the album page, and you will be emailed a download link. The album is available in a variety of formats including mp3.