The vision of this site is "to equip the typical church-goer with a personalized two-sided Business Card that will make it POSSIBLE for them to be a MISSIONary". There is not much else to add on what you can get from this website, so the question is just how good is it?
You can download a pdf which has images on them already, much like the example you can see to the right. You can easily change the contact details (which are generic initially) to whatever you want so that they are personalised. A big positive of these cards is that they link back to the All About God website. This is a fantastic website to put on evangelistic materials as not only does it answer a lot of questions people may have about Christianity, but it is very focused on getting people to respond to gospel.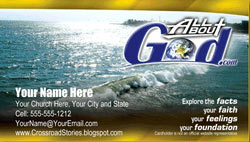 The main drawback of the cards is that the free ones are relatively similar and there is not much you can do it make them unique. However if you want to do this you may as well create your own from scratch, and presumably if you had the skills to do that you would do it yourself anyway!
Also of course you will need to print them out in colour which can invariably be quite expensive if you print out lots and may not be the highest quality. For a charge the website will professionally print the cards for you. You can also access more designs if you are willing to pay.
Summary
If you want a card to hand out that links back to a fantastic website then this should help.
Ratings:
fCr rating:

(No Ratings Yet)

Loading...
Strengths
Easy to add your details
Links back to All About God, which is a fantastic website
Weaknesses
Not loads of free designs
You still need to print them in colour, which could end up being expensive!