fCr rating:

Get the KJV on your Java enabled phone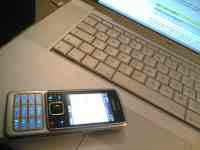 I recently bought a new mobile phone (a Nokia 6300) and this inspired me to find a free bible application that I could download to it.
If you have a smartphone or a pda there are more substantial bibles available but obviously any software on a normal bible will be limited. However there is fantastic free application called GoBible that will install the KJV onto your mobile phone. It was initially written by Jolon Faichney, although he has had further help to bring it up to the current level.
It is available in plenty of different languages from Finish and Bulgarian to Tagalog and Chinese and plenty more in between.
GoBible is great fun to use, and considering the limitations of packing the whole bible on to a mobile phone it is easy to use. You can navigate either by using the keypad (as explained below) or the 'Go to' option.
This was really all I expected from a free mobile phone bible – but GoBible goes much further. You can quickly search for any word in the bible, or bookmark any verses you may want to visit often. There is also a history to let you go back over recent verses you have viewed.
If you have a mobile phone that supports Java you really should get GoBible. It is a great way to have the bible with you on the go, and is written to a very high standard.
Installing
There are a few different versions available depending on your phone model. The full bible is over 1mb in size and most Nokia's don't accept JAR files this size. Therefore I had to download the bible in two parts.
You can download the software to your computer from the main page. Alternatively got to http://wap.jolon.org/22 directly from your phone.
Other usage guidance
GoBible provides the following advice on how to navigate the bible on your phone:
To jump to a verse the Go to screen requires that a phone have left and right arrows. Most Java phones have left and right arrows however I have noticed that some cheaper Nokias only have up and down arrows. If your phone doesn't have left and right arrows then the * and # keys can be used instead. In addition the book, chapter, and verse can be changed by pressing the following keys whilst viewing a verse:

Book: 1 and 4
Chapter: 2 and 5
Verse: 3 and 6