Joe Miller describes his blog More than Cake as "Poetry, art, and insights about life and Jesus". That is a good summary for this Christian website which is very well written and has some deep and thought provoking articles.
He currently publishing a good series on the DNA of the church and has so far discussed faith and integrity. These are strong biblically based articles that are easy to digest – but yet challenging at the same time.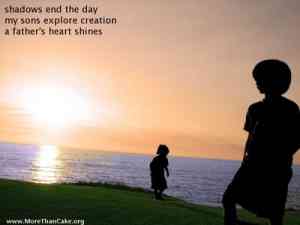 Joe is a pastor at the Reunion Church in Washington, and has been writing the blog for a couple of years now. He also often produces his own images for the website, I particularly love the one shown to the right of his sons.

There are plenty of other great articles in the archives if you have a dig around too.
Links
RSS feed: http://www.morethancake.org/feeds/posts/default?alt=rss
Website: http://www.morethancake.org/