fCr rating:

Amy Grant
O come all ye faithful
Download the songs here | Amy Grant website | Amy Grant myspace| Christian Woman
This free Christmas song is courtesy of Christian Woman, and is sung by Amy Grant. It is a beautiful and very simply composed guitar backed song. As with many of Amy Grant's songs, it simplicity adds power to the words she sings, or at least makes it easier to take them in and celebrate their truths.
You can get the lyrics for O come al ye faithful from the post 'The 40 most popular Christmas hymns'.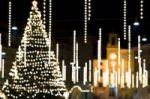 Find more Christmas songs and resources
You can find more free Christmas songs at the 'free Christmas songs' section. You can also find lots of other free Christmas stuff including sermons, advent calendars, music, clip art and much more at the Christmas page. image by rache.
Download the song here:
http://blog.todayschristianwoman.com/editors/upload/amy_grant-o_come_all_ye_faithful.mp3