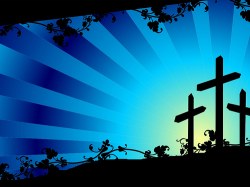 floralcross3
Photo by dtcchc
Easter is coming!
A new page has been added to free Christian resources to show the main free Christian easter resources available at the moment. This will cover everything from clip art, music, devotions, children/youth stuff, and much more.
You can also view all of the easter posts added by browsing through the Easter category here.
To get us all started though, it is useful to know just when is easter in 2009! So here are the dates for Easter, both the dates for Western Christianity's Easter in 2009, and the dates for Eastern Orthodox Christianity in 2009:
Easter Dates 2009 (Western Christianity)
Ash Wednesday 2009 is Wednesday 25 February
Palm Sunday 2009 is Sunday 5 April
Maundy Thursday is Thursday 9 April
Good Friday 2009 is Friday 10 April
Holy Saturday 2009 is Saturday 11 April
Easter 2009 is Sunday 12 April
Ascension 2009 is Thursday 21 May
Pentecost 2009 is Sunday 31 May
Easter Dates 2009 (Eastern Orthodox Christianity)
Clean Monday 2009 is Monday 2 March
Palm Sunday 2009 is Sunday 12 April
Holy Friday 2009 is Friday 17 April
Lazarus Saturday 2009 is Saturday 18 April
Easter Sunday/Pascha 2009 is Sunday 19 April
Ascension is Thursday 28 May
Pentecost is Sunday 7 June
Easter Dates (Real)
Of course, the actual dates of the events surrounding Jesus' death and resurrection are not the days we currently celebrate them. It is not to far off from the Jewish dates that would be used. Jesus was crucified on the 15th Nisan (a month in the Jewish calendar), and as part of the passover festival. This was sovereign timing to confirm that Jesus' blood covered our sins. This year the first day of passover (Nisan 15) is on April 9th – so just 3 days off for the date of Easter in the Western calendar, and 10 days off for the date of Easter in the Eastern Orthodox Calendar.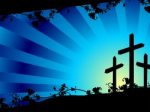 Find more Easter resources
You can find extra free Easter stuff including sermons, cards, music, clip art, devotions and much more at the Easter page.
image by dtcchc.