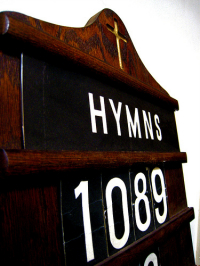 Hymns
Photo by billaday
Page CXVI have created modern version of classic Christian Hymns, and are currently giving away lots of their album free. The aim behind Page CXVI is to make hymns accessible and known again. As they point out "Christian Hymns are some of the richest, most meaningful, and moving pieces of music written", so this is an exciting project!
It has been so popular that Page CXVI have had to stop giving away the non public domain hymns (you'll be able to buy them soon I think) as they would have to pay royalties. However, this still leaves four fantastic Christian Hymns that you can download. If you want the lyrics then you can get them by clicking on the hymn and it will take you to the Cyber Hymnal/Net Hymnal website. Here are the free Christian Hymns:
It is also worth noting that the music is provided on an attribution non-commercial creative commons license for all of the public domain music (i.e. the four hymns above). Therefore if you ever want to use any of these songs in videos for your church or other types of media presentations feel the freedom to do so license free.