fCr rating:

A superb online bible. Simple, powerful and fast

Rick Meyers, who produced eSword, the best free PC bible software, has now produced an online version with spectacular results. Whilst not as powerful as the stand-alone eSword package it does mean you can access large parts of the eSword package even if you use a Mac or are away from your normal computer. The online eSword is easy to use, quick at accessing bible verses and commentaries and is also a powerful bible study option. Give it a try, it might just become your online bible of choice!
Bibles, Commentaries, Dictionaries, etc.
If you use eSword without creating a free account then the number of translations and extras you have access to are limited. The default translation is ESV, and you also have Matthew Henry's Concise Commentary, the Easton dictionary, the Strong's lexicon and a selection of topics . This may suit your needs if you like the ESV (which is a superb translation) and just need to quickly look up a verse.
However, if you sign up for the free account, which is very quick an easy to do, you then have access to many more translations. You can pick and choose which you want to have access to from your profile page. At the time of this review you could use the following resources:
Bibles:
Amplified Bible, Afrikaans Ou Vertaling, Contemporary English Version, Chinese Union Version (Simplified, Traditional), Dutch Staten Vertaling, English Standard Version, French bibles x2, Finnish Pyha Ramattuu, German Bible x2, God News Bible, God's Word, Italian bible x2, various King James versions, Latin American bible, New American Standard Bible, Revised Version, Vietnamese Bible and more!
Commentaries
Albert Barnes, Adam Clarke, Matthew Henry (concise and full), Jamieson Fausset and Brown, The People's New Testament and Robertson's Word Pictures.
Commentaries
Easton's, Fausset's, Hitchcock's, International Standard Bible, Smith's and Webster's 1828
Topicals
Nave's Topical Bible, RA Torrey's New Topical
Lexicons
Brown-Driver-Briggs' Hebrew, Strongs Hebrew and Greek, Thayer's Greek.
In other words, you have access to a wealth of different bible study resources. So, Just how easy is it to use? Is it too slow with all the options available?
Layout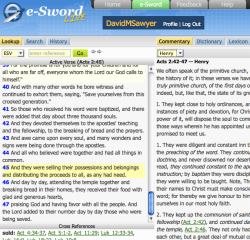 You can see the layout to the right and it is very logical. On the right you have the selections for commentaries, dictionaries, lexicon and various topics. On the left three quarters of the results section have the selected bible verses, whilst the bottom quarter has cross references.
It is a very good structure, which has both a flexible width and height. This means you can make it fit in to less than half your screen easily without having to scroll around. You can't adjust the layout within the screen as you can on the PC eSword version. However, this really doesn't detract from its use as the automatic adjustment always fits well.
The presentation is very clear and easy to use, with a good choice of fonts. It just works, without being anything groundbreaking, helping to keep the design clutter free.
Using eSword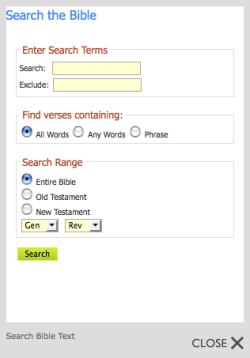 What instantly struck me was just how quick eSword was to use. Even with lots of bibles, commentaries and dictionaries selected the results appear very quickly. You can choose your translation or commentary via a drop down menu, and the commentary will automatically update based on the verse selected.
You can navigate the bible either by typing in the reference or searching for a word. Once again the speed is impressive even when searching for a common word. Searching for 'hope' came up with the 164 verses in less than one second. You can then click on any of the verses to read them in context. There is a picture of the search box to the right, which has several different options to help you narrow down your search.
The verses that you have recently used are saved in the history section should you wish to backtrack on your reading.
Using the online eSword is simple, and takes a matter of minutes to know exactly where everything is. Despite this, it is actually a very powerful online bible with lots of resources.
Finally, there is also a help page which shows how to link to specific verses from your website.