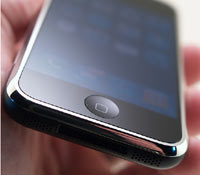 With the iPhone now established there are plenty of free bibles available to use, but which are the best ones? Inevitably this will depend on what translation you are after, so here are the best iPhone bibles around so far.
Applications have just been made available by apple to allow third party applications to be put on iPhones. This means that software like eSword and Olive Tree will now be possible. You can see the best Christian iPhone applications here at free Christian resources by clicking here. Hopefully the list below will help you find the iPhone bible you are after though…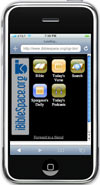 iBible space
Bible translation: ESV
Website: http://www.acrodesigntech.com/apple.html
iPhone website: http://www.ibiblespace.org/cgi-bin/iphone
This is probably the most impressive bible offering on the iPhone. Firstly, as you can see from the image on the right it looks good, with an interface that will be familiar to iPhone users. It includes the entire English Standard Version (with footnotes), and Matthew Henry's Concise Commentary.You can also create your own personal notebook to highlight or attach notes to any verse of the Bible. You can either select a specific book from the bible, or use the search feature to find a word or phrase.
Added extras include a verse of the day, Spurgeon's Morning and Evening daily devotional, and a link to some podcasts from the day.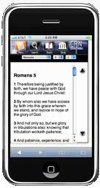 iBibleZ.com
Bible translation: ASV, KJV, Chinese Union Version
Website: http://www.ibiblez.com/
iPhone website: http://www.ibiblez.com/iphone/bibleTemplate.php
iBibleZ is another good looking iPhone bible option. The main way to navigate the bible is by using the drop down boxes for the translation, book, chapter and verse. You can also either select a specific book from the bible, or use the search feature to find a word or phrase.
iBibleZ is continually being improved, with new translations likely to be added soon. This is a great option if like the ASV, ESV or Chinese translation.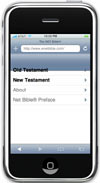 The NET bible
Bible translation: NET
iPhone website: http://www.enetbible.com/
The NET bible does a great job translating the NET bible onto the iPhone. The text is well formatted for the iPhone, but perhaps most impressively you can access the multitude of study notes that the NET bible has. You can choose individual chapter from the old or new testament, however no searching function is available yet. One problem with the study notes is that the iPhone cannot yet properly show Hebrew, so any Hebrew words are just shown as boxes. Hopefully Apple will rectify this soon.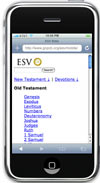 ESV mobile
Bible translation: ESV
Website: http://www.esv.org/blog/2007/08/more.iphone.news
iPhone website: http://www.gnpcb.org/esv/mobile/
Unlike some iPhone bibles the ESV bible allows you to search the text for words or phrases and this is easy to do as the search section is included on every page. You select the chapter you want to view via a list of the old and new testament books. The text is very readable as it is formatted specifically for the iPhone.
The ESV has plenty of added extras through their daily devotional content. This includes some daily devotionals, as well as a variety of ready plans (e.g. read the bible in one year).

3onesix
Bible translation: NIV, ESV, KJV and possibly more
iPhone website: http://iphone.3onesix.com/
If you want the NIV on your iPhone then 3onesix is your only option at the moment. 3onesix does not use the same menu system as all the other iPhone bibles use. Instead you have to type in the chapter you want (e.g. Mark 2). Understandably this is not as user friendly as the normal menu system. It would be good to have both this option and the more popular/common list.
The NIV is the standard bible used when you search. However you can search for other versions by adding this to your search. So to search for the KJV you would type "KJV:Mark 2". You may be able to get more translations so give it a go if you really need a certain one.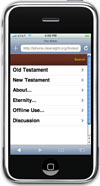 Clearsight Bible
Bible translation: KJV
Website: http://apathyonline.net/iphone-bible/
iPhone website: http://iphone.clearsight.org//
This is a simple KJV bible, with the option to select a book from the main many, or also to search the bible. Additional versions of the bible should be added in the future as this is just a beta version.
Interestingly this also has an option for an off line version. You do have to pay for this (a one off fee I think) by a donation, and I am not sure how well it works. However this may well be worth investigating if you want to read your bible on your iPhone when you can't get internet access.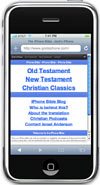 God's iPhone
Bible translation: God's Word Translation
iPhone website: http://www.godsiphone.com/
God's iPhone is still a work in progress and currently includes the whole new testament and parts of the old testament (Genesis, Exodus, Leviticus, Numbers, Psalms and Proverbs). These are being added to all of the time though, as quickly as Israel Anderson can manage. God's iPhone also includes a section for Christian Classics which currently includes AW Tozer's "The Pursuit of God". There is also a link to popular podcasts, and a blog which will update you on any changes.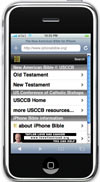 iPhone bible
Bible translation: NAB
iPhone website: http://www.iphonebible.org
You can search the New American Bible (which includes the apocrypha) by selecting an individual chapter from the old or new testament. Searching for a specific word or phrase is not too easy as you have to search via the main website (rather than the specific iPhone website). One problem highlighted by the This Lamp blog is that the text is very small, as the iPhone formatting has been rendered from the original internet content rather than being revised. To make it legible you really need to either turn the iPhone on its side, or increase the zoom. The iPhone bible also includes a daily reading, and daily reading podcast.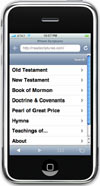 iPhone scriptures
Bible translation: KJV & Mormon
iPhone website: http://readscriptures.com/
This is a simple offering with no ability to search or skip through chapters. If for some reason you want to check out part of the Mormon "scriptures" you can also get these through iPhone scriptures.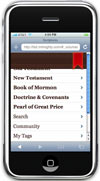 LDS Standard Works
Bible translation: KJV & Mormon (can be excluded)
iPhone website: http://tall.mtmighty.com/#_volumes
As with iPhone scriptures, this includes the Mormon texts, however with LDS you can choose to exclude them. This makes this a good iPhone option for those you prefer the KJV. You can search for words or phrases via a search option in the main menu. There are also options to tag verses and see a random verse (should you want to!)
---
Since the initial post, the following three iPhone bibles are now available: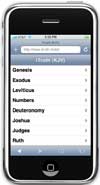 iTruth
Bible translation: KJV
iPhone website: http://www.itruth.mobi/
This is an easy to use bible and uses a similar style of menu to many other choices. You start by selecting the book that you want to read, and then the chapter. There are no bells and whistles so if you are just after the KJV bible verses iTruth may interest you.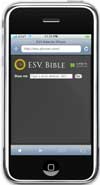 Paradoxica iPhone bible
Bible translation: ESV
iPhone website: http://esv.phoreo.com
Scott Andreas has also released an iPhone website with the ESV bible on it. This uses a simple interface and currently just has a search box where you type in the verse you are after. You can use abbreviations, so you may actually find this quicker than using the normal menu system that is used with other iPhone bible. It is also available as a dashboard widget (Mac), and via Adobe AIR (Mac and PC)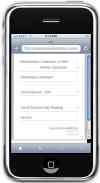 Covenant Pocket Bible
Bible translation: ESV
iPhone website: http://covenantpocketlibrary.com/
Covenant Pocket Library is a simple iPhone bible that uses the ESV translation and also includes a one year bible reading plan. The Heidelberg Catechism and the Westminster Confession of Faith and Catechism are also available.