Since my last post "The best 9 free iPhone bibles" a couple of weeks ago more iPhone bibles have become available. I have added these to the main review so that it is the only place you need to look, but for those that have already tried them out here are the additional bibles: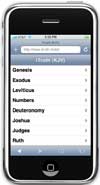 iTruth
Bible translation: KJV
iPhone website: http://www.itruth.mobi/
This is an easy to use bible and uses a similar style of menu to many other choices. You start by selecting the book that you want to read, and then the chapter. There are no bells and whistles so if you are just after the KJV bible verses iTruth may interest you.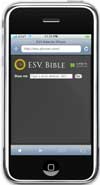 Paradoxica iPhone bible
Bible translation: ESV
iPhone website: http://esv.phoreo.com
Scott Andreas has also released an iPhone website with the ESV bible on it. This uses a simple interface and currently just has a search box where you type in the verse you are after. You can use abbreviations, so you may actually find this quicker than using the normal menu system that is used with other iPhone bible. It is also available as a dashboard widget (Mac), and via Adobe AIR (Mac and PC)
You can find additional iPhone bible reviews here:
https://www.freechristianresources.org/2007-10/best-iphone-bibles