fCr rating:

Holy Bible by Paul Avery
main website | download from iTunes
A good selection of free bibles with note taking and bookmarking included.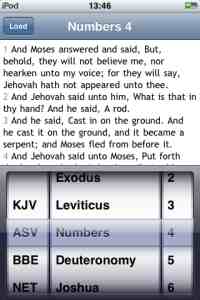 There is an ever growing list of free iPhone bibles that you can access offline, so what might make the Holy Bible your choice?
Firstly, the Holy Bible iPhone application has a good selection of free translations available. In English it has the ASV, BBE, KJV, NET, WEB, YLT.
In Greek it has the Greek New Testament (Nestle-Aland / GNT) and Septuagint(SEP). In Spanish it has Reina Valera 1909(RVR), Sagradas Escrituras(SE) and Español Moderno(EM). In Italian it has the Modern Translation(IT). In French it has the Louis Segond(LS). And in German it has the Luther translation(LUT).
There is the ability to bookmark whole chapters of the bible. This could be improved by allowing specific verses to be bookmarked.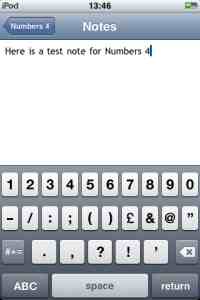 One feature included that is missing from many iPhone bibles is the ability to make notes. As with the bookmarking, you can add notes for any chapters. This is a great feature that could be enhanced by showing whether a particular chapter you reading has a note or not.
There are plenty of options available to vary the font, size and spacing of the bible text which ensures the reading can be customised just as you would like.
Overall the Holy Bible is a very solid iPhone bible that benefits from a good selection of free bible translations in many languages and added extras such as note taking.