fCr rating:

Bible Reader
Main website | Download application
An easy to use offline iPhone bible that would benefit from additional translations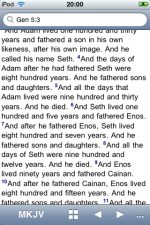 Olive Tree have made a name for themselves by providing bible software on various mobile applications, so it is no surprise that they are branching out onto the iPhone. The early versions (this review is based on version 4.0001) are good and are based around providing offline translations. No doubt further updates and improvements will be coming to software.
More translations would obviously be great, and any further improvements to the applications design would help make this a superb iPhone bible application. I'm not sure what the likelihood of additional translations would be, as they do provide an ESV version for £10 (£15 for an ESV study pack).
Translations available
Olive Tree's Bible Reader application currently includes the ASV, Darby, French Darby, German Luther Bible, MKJV, NET, SpanishRV, WEY-NT and the YLT.
You can change the translations quickly by tapping on the acronym for the translation you are reading and then selecting your new choice.
Using the bible software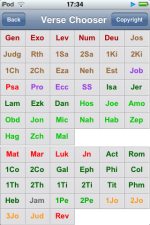 The small icon in the middle of the tab bar pulls up a table of all the books of the bible on on screen. This sounds too much for one iPhone screen but it actually works really well and does not feel to small or cramped. This may be more difficult for those whose eye sight is not 100% but I found it a quick way to select the books. You then simply click on the book and verse and you are taken to the relevant verse.
You can also directly type a verse in the top bar (though this would take longer) or search for a specific word or phrase.
It is very easy to use and takes less than a minute to understand.
How does it look?
The simple design generally fits the iPhone well, and there is full customization available for the font and font size. It doesn't quite look the part as much as the YouVersion bible. Not that it creates a bad experience when using it but it feels more PC than Mac. Whether that is bad no doubt depends on you preference!