fCr rating:

iBibleZ.com
main website | iPhone bible
A superb option for your iPhone bible with good translations and continual improvements to the website.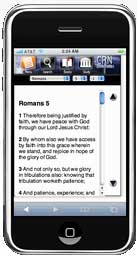 iBibleZ.com is a newcomer on the scene since my definitive review of iPhone bibles last year. The first thing you will notice is that the interface is slick and designed specifically for the iPhone. There are quite a few translations available including the ESV, ASV and the Chinese Union Version.
Navigating through the bible is relatively easy, the main way is to select the translation, book, chapter or verses from the drop down menu which is always on display. A big advantage of this over other multiple translation iPhone bible versions is that it is very easy to switch between translations whilst keeping the same verse.
You can also search for key words, and there is a study section being developed which will make this a very impressive iPhone bible package.
Most excitingly perhaps is the ongoing development opportunities from the iBibleZ iPhone bible. From reading through the forum it is clear that it is under continual development. It would not take too much more to make this arguable the best iPhone bible.
Translations
The iBibleZ.com iPhone bible has several translations available, as shown below. There are plans for more to be added according to the forum, and this would be fantastic. However, with the ESV, ASV and KJV available it already has a good selection. Those in italics did not work at the time of this review, and are presumably in the process of being added.
King James Version (KJV)
American Standard Version (ASV)
English Standard Version (ASV)
Bible in Basic English (BBE)
Darby Bible Translation (Darby)
Webster's Bible (WEB)
Youngs Literal Translation (YLT)
和合本 – Chinese Union Version (CUV)
Links:
iBibleZ.com website:http://www.ibiblez.com/
iPhone bible link:http://www.ibiblez.com/iphone/bibleTemplate.php
iBibleZ.com forum:http://www.artofsmack.com/forum/showthread.php?t=388