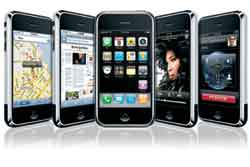 Once you get hold of your exciting new iPhone one of the first things you'll want to do is find a good quality bible that you can view on it. Back in October and soon after the launch I produced a definitive post of all the free iPhone bible options available. But which iPhone bible is the best for you?
Three months on from the guide to 11 free iPhone bibles, and now several months after the launch of the iPhone. Here are the best bible choices for your iPhone!
the best overall choice: iBibleSpace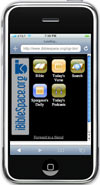 iBibleSpace still stands tall as the best iPhone bible offering available free. Firstly it provides the great ESV translation of the bible, including footnotes. As you can see from the image on the left, it looks superb and is perfectly at home on the iPhone.
You can create your own personal notebook to highlight or attach notes to any verse and you easily search the bible by choosing a specific book or use the search feature. They have also thrown in a verse of the day and Spurgeon's Morning and Evening daily devotional.
If you have to choose one iPhone bible, choose this one!
the next best overall choice: iBibleZ.com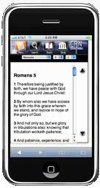 iBibleZ.com is newer than iBibleSpace but is improving in leaps and bounds. As with iBibleSpace it has a great design which fits nicely with the iPhone's style. It also includes the ESV, ASV and Chinese Union Version, with further translations likely to be added. It is very easy to select the verse you want or search for words too.
iBibleZ is also undergoing continual improvements, so it is worth checking it out now to see what I have missed! Indeed, I would not be surprised if iBibleZ.com jumps to the top of this list soon.

the best for multiple translations: 3onesix
My goodness the 3onesix iPhone bible has more translations than you could dream of! As well as Italian and Spanish bible translations it also includes the NIV. Here is the complete list:
NIV: New International Version
TNIV: Today's New International Version
KJV: King James Version
NKJV: New King James Version
NCV: New Century Version
NASB: New American Standard Bible
ItalRV: Italian Revised Version
ESV: English Standard Version
SpaRV: Spanish Reina-Valera Antigua
HCSB: Holman Christian Standard Bible
MSG: The Message
Obviously the iPhone is not exactly designed for in depth bible study! However, if you need some further background on a verse then The NET bible is the best iPhone bible. It has the study notes for the NET bible built in, and is particularly good for giving the original meaning of translated words.
other iPhone bible choices?
If you are not 100% happy with those iPhone bibles, then there are plenty more options as discussed further in 'the best 11 iPhone bibles' post.