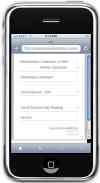 Covenant Pocket Library is great iPhone bible if you like a simple interface and crisp and clean design. It has links to the Good News and Crossway ESV bible and an ESV one year reading plan.
It also sets itself apart from other iPhone bibles by including the Heidelberg Catechism and the Westminster Confession of Faith and Catechism. These were both recently mentioned here at free Christian resources.
Finally, if you like you hymns then there are some of these included too. It would be great if more hymns could be added.
All in all, Covenant Pocket Library is very easy to use, which tends to be really important when you're surfing the net on a mobile phone.