fCr rating:

A good website with a free mailing to help entertain children whilst learning how to depend on Jesus.
The DJ TV Club is aimed at providing children aged 6 to 10 with a fun way to learn the bible and grow closer to Jesus. What sets it apart from many websites is that you can sign up for a free DJ Club pack which will be posted to your house. The DJ Club is produced and provided by Inspiration Networks. They also produce TV programs that are shown on INSP, iLifetv, LaFamilia and INI.
The Inspiration Networks goal is:
To bring children to Christ, to help Christian children grow into mature Christian teenagers and adults, and to apply the truths of God and learn to "Depend on Jesus".
DJ Club kit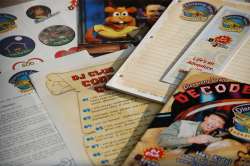 By joining the club you will receive the pack of items that I have photographed to the right. It includes a notebook, stickers, code of conduct the DJ Decoder book as well as some other items. All are produced to a high quality and the DJ Decoder book is definitely worth ordering (free!) for children. It is packed with games, stories and help on how to life a Christian life by depending on Jesus.
The website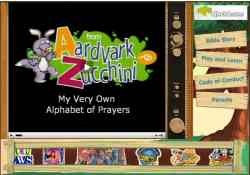 As well as the great DJ Club Kit the website also has lots of fun content. You can watch some of the TV programs online, although as you'd expect you probably need broadband to achieve this. There are free games and activities that you can print off and complete away from the computer too. You can also read some bible stories and devotions online.
Everything is very well produced and it is cool that Inspiration Networks are giving away so much of it free to help them achieve their goals.