This month's free audiobook from Christian Audio is In His Own Words by Martin Luther.
Christian Audio provides the following synopsis, which sums it up as well as could wish!
Most all Christians know the name Martin Luther. Less familiar, however, are his words. This compilation of many of Luther's most important writings serves as an excellent introduction to those new to Luther. It also provides a fresh medium for people familiar with his writing.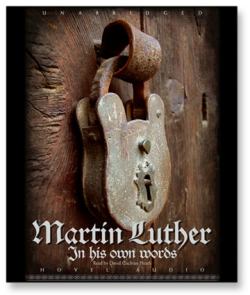 It includes the following writings:
The Small Catechism
95 Theses
On Faith and Coming to Christ
On Confession and the Lord's Supper
Of the Office of Preaching
Excerpt from Luther's Tower Experience
The Last Written Words of Luther