fCr rating:

God is Gospel
by John Piper
Download book | Study guide
A superb book reminding us that the gospel is all about God.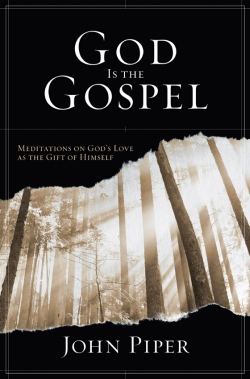 Note: The display and/or download of this book is for personal use only and it may not be distributed, duplicated, or used for any commercial purpose.
God is Gospel is a superb free Christian book written by John Piper that is available free to download. It currently has 4.5 out if 5 based on the reviews at amazon and has the subtitle of "Meditations on God's Love as the Gift of Himself ". As with all of John Pipers books it is heavily rooted in the scriptures and focused on the cross. We can have a tendency to put a human touch on the gospel – that it is all about our salvation and us. Piper reminds us that actually the gospel is all about God.
As well as the pdf book, there is also a very useful study guide at the Desiring God website, and also a Leader's Guide.
To get the free pdf download simply go to the Desiring God website at this link and then select the 'Download this book (PDF)' link.
…the gospel is that God gives us himself—Christ died to give us Christ—, and this self-giving is his highest mercy to us and the best news for us! The most profound, most exceedingly gracious, final and decisive good of the good news is Christ himself as the glorious image of God revealed for our endless satisfaction.
Have you read this book? What do you think about it? Why not vote or leave a comment?