fCr rating:

Free bibles in the US if you have a real need.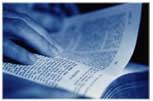 freebibles.net is a superb website that will provide you with a free hard copy of a bible if you live in America and fulfill certain criteria. Most of the bibles shown on this website are only available online, so this makes freebibles.net really unique; and due to the other criteria it helps ensure that this service really helps those that need it. freebibles.net is a non-denominational religious nonprofit organisation set up to distribute English and Spanish bibles. You can't request a specific translation just the language.
The stipulations are as follows:
1) Only the very poor, sick and imprisoned are eligible
2) They only ship Bibles to United States locations.
3) Only one Holy Bible per person and per address.
4) They do NOT send Bibles to ministries, only to individuals.
You can also donate to this cause if you would like to help other people receive free bibles.
Here are some of the reasons people have requested bibles from them recently:
Why Do You Want A Bible: I lost mine in a fire. I can't afford another I am lost with out my bible
Why Do You Want A Bible: For my husband in jail
Why Do You Want A Bible: I have to spend my disability money on my rent