fCr rating:

Gospel Translations
main website
Good quality Christian books translated into many languages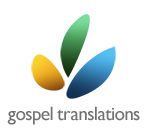 The Desiring God website recently posted on the exciting project called Gospel Translations. The Gospel Translations website aims to provide Gospel centered resources free for Christians in many languages (not English). Currently the following languages are supported:
Română
Italiano
Bahasa Indonesia
Français
Deutsch
Nederlands
Русский
Português
中文
Español
There are also other languages supported, but that do not have so many books at the moment.
Gospel Translations is a partnership with Sovereign Grace Ministries, Desiring God, Ligonier Ministries, 9Marks, and more. In less than two years Gospel Translations has added 750 Christian books and Christian articles in 31 languages online. The authors include Christians such as John Piper and R.C.Sproul.
This sounds like a fantastic project that could really bless the Church. If you want to help they really need people to help translate, prayer and financial assistance.
You can find out more at the Gospel Translations website, or also from the video below.