fCr rating:

The Resurgence Greek Project
main website
A simple but powerful website for reading and understanding the original Greek text in the bible.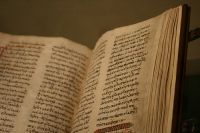 Ancient Greek Bible
Photo by J.Gresham
The Resurgence Greek Project is a great website if you want to dig deeper into the bible text and review the original Greek text. Whilst some other websites also allow this (such us the Blue Letter Bible) the advantage of Regreek.com is that it is very simple to use. The whole focus of the website is on reviewing the Greek text and words.
You can browse any given veres/s in the Greek bible (or other English texts should you so wish) and view the original text. Hovering over any Greek word brings up a brief summary of the meaning, whilst clicking on it brings up a more complete analysis of the word, whilst even showing in graphical format where else the word appears in the bible.
There are so many other parts to the Resurgence Greek Project including
A graphical analysis of the books by person, tense etc..
Verse for the day, in Greek
A Betacode converter
A concordance of all Greek words in the bible
Reviewing the original Greek text is not for everyone, but this website could well be useful if you are interested.