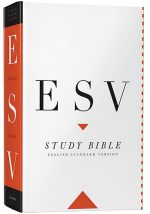 You can now access the ESV translation of the Bible in audio format free at the ESV website. B.C. McWhite explains how he uses this in memorizing the scriptures at his blog. The download are in mp3 format, and you can download any chapter you like. The main proviso is that you cannot download a whole book, and cannot have more than 250 verses, in line with the ESV copyright.
Here are the steps required, I've checked it out and it is pretty easy to do.
In the top right corner of this page, click on the "Options" tab.
Under "Audio Options," click in one of the buttons for MP3 (I use David Cochran Heath because he has the most "normal" sounding voice).
At the bottom left of the page, click the "Save" button (that should open a page that says, "Your preferences have been saved" at the top).
Type the passage or book you want (e.g. Ephesians 3:1 or Matthew) into the search bar and click "search."
When the passage comes up, you should see a link that says "Listen" next to the passage reference. Control-click (PC users right-click) on the "Listen" tab. A menu box should come up. Click on "Save Link As…"
When the box pops up, you will have to add an extension name on the end of the title if it doesn't have one. So, for example, if the title of your selection is "49004029″ then you need to add .mp3 on the end, so that it reads "49004029.mp3″. Save the file to your Desktop.
Find the file on your desktop and open it with iTunes or Windows Media Player, or whatever you use. You can then load it onto your iPod, MP3 player, or burn it onto a CD for your car.
The ESV team fully endorse this approach, indeed they even posted on B.C. White's method in this post.