fCr rating:

Logos bible widget (Mac)
main website
A simple ESV/KJV bible verse lookup tool for your Mac dashboard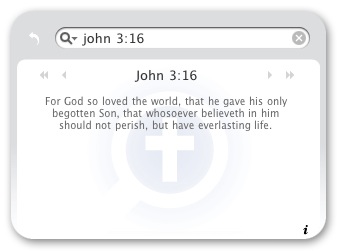 Towards the end of last year Logos released a Mac version of their powerful bible study software. At the same time they also released a free bible widget for apple macs, that you can add to your dashboard.
The Logos verse widget is very easy to use and it is installed just like any other widget. Once the installed simply go to your dashboard and type in the verse you want to read in the text box. You can choose from the ESV and KJV translations.
On the plus side it is a very slick design that looks very attractive. On the downside you can only view one verse at a time, and there is no way to link through to additional information from commentaries and dictionaries. The latter point is unlikely to change as would provide competition for the main bible software that Logos produce, however the ability to only see one verse at a time is slightly limiting.