fCr rating:

ESV Mac bible widget
ESV post | download page
A useful Mac widget to search the ESV bible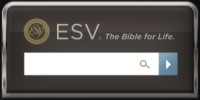 The ESV team have recently released an ESV bible widget for the Mac dashboard. The widget allows you to search by verse, keyword or phrase when you pul up the dashboard. The results are then shown on the ESV study bible website. Whilst you do have to pay to use the full ESV study bible, it will still show the bible verses even if you don't have full access.
The widget is easy to install and use, and is particularly useful if you own the full ESV study bible.