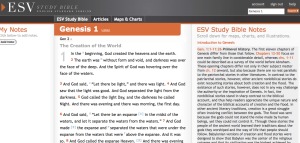 If you are interested in buying the new ESV study bible them you may well be interested to hear that for the rest of March you can access the whole of the study bible free online! Normally you only have access to the website if you own a hard copy of the ESV Study Bible.
It is an impressively presented online study bible and worth checking out even if it is only for one month.
Now… how much of it can I absorb in one month!