This month's free audiobook from Christian Audio is the classic Paradise Lost by John Milton. It is only available in January so you will need to act fast if you are interested in listening to it. Paradise Lost was published in 1667 in England (in fact John Milton wrote in in the village next to where I grew up!) and deals with the Fall of Man, the temptation of Adam and Eve and their expulsion from the Garden of Eden.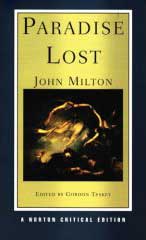 Paradise Lost is a mixture of classical mythology and Scripture; of paganism, classical Greek references and Christianity. It deals with many thorny theological issues such as fate, predestination, and the Trinity. Paradise Lost is generally considered one of the greatest works of literature in the English language, and as John Milton was blind at the time of writing it he was heavily reliant on friends to note down his dictations.
If you would prefer to read Paradise Lost you can also download it free in pdf format.
The audiobook is narrated by Nadia May. For those unfamiliar with her, here is how Christian Audio describe her:
Nadia May has narrated over five hundred audiobooks and has earned the prestigious AudioFile Golden Voice award, as well as fourteen Earphone awards. She is an accomplished film, TV, and theater actress. Her native British voice complements her graduate education in English Literature from UC Berkeley to make her delivery of John Milton's Paradise Lost engaging and nuanced.
To get the free audiobook add the Download Format of Paradise Lost to your cart and then use the coupon code JAN2008. The link required for the website is shown below.
Links
Download page: http://christianaudio.com/free_download.php
Read the book free online:
At wikipedia: http://www.answers.com/topic/paradise-lost-2
Download a pdf: http://www.planetpdf.com/ebookarticle.asp?ContentID=6153
Study notes: http://www.sparknotes.com/poetry/paradiselost/