fCr rating:

Amazing Grace in the Life of William Wilberforce
by John Piper
Download book | Wilberforce wikipedia bio
A short book on the spiritual life of William Wilberforce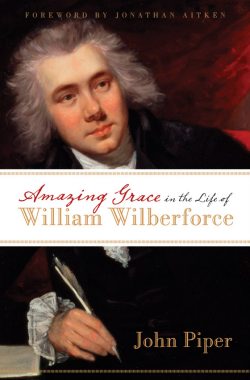 Note: The display and/or download of this book is for personal use only and may not be distributed, duplicated, or used for any commercial purpose.
William Wilberforce is best known for his successful and hard-working effort in abolishing the slave trade in Great Britain. At seventy pages this book does not attempt to provide a complete biography of William Wilberforce, rather it focuses on his spiritual and Christian life. As with most of John Piper's books it is very well written and it helps put the Christian driving force to William Wilberforce's life to the fore, which many biographies fail to do.
To get the free pdf download simply go to the Desiring God website at this link and then select the 'Read this book online (PDF)' link. You can also read or listen to John Piper's biographical message on Wilberforce, or watch John Piper talk about the new book.
The Desiring God website says:
In this concise volume, John Piper tells the story of Wilberforce's transformation from an unbelieving young politician into a radically God-centered Christian and how his deep spirituality helped to change the moral outlook of a nation.
Have you read this book? What do you think about it? Why not vote or leave a comment?