fCr rating:

Suffering and the Sovereignty of God
by John Piper, Justin Taylor and various
Download book | Study guide
Various essays that reconcile the sovereignty of God with our suffering.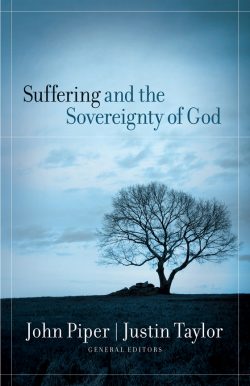 Note: The display and/or download of this book is for personal use only and it may not be distributed, duplicated, or used for any commercial purpose.
Suffering and the Sovereignty of God is a mixture of essays from various authors including John Piper Joni Eareckson Tada, Steve Saint, Carl Ellis, David Powlison, Dustin Shramek, and Mark Talbot. There is a very strong theological underpinning to the book, but goes past merely being an exercise in systematic theology (not that that is necessarily bad). Many of the essays are personal and cover the suffering of the authors, but always related to God's sovereignty. The Desiring God website says that the book urges readers "to look to Christ, even in suffering, to find the greatest confidence, deepest comfort, and sweetest fellowship they have ever known."
This is a powerful book on subject that has perplexed many Christians and non-Christians for centuries. Often when we are suffering or struggling it can be difficult to see just how God is being sovereign in our lives. Hopefully, reading this book will help draw us back to Jesus in our suffering.
As well as the pdf book, there is also a very useful study guide at the Desiring God website. It is worth noting that the Desiring God ministry allow the study guide to be reproduced freely with only a few caveats (unlike the main book which is purely for personal use).
To get the free pdf download simply go to the Desiring God website at this link and then select the 'Read this book online (PDF)' link.
You can also read or listen to the messages , from the Suffering and Sovereignty conference should you wish to have more materials after reading the book.
R. Albert Mohler said the following about Suffering and the Sovereignty of God:
"John Piper and friends tackle some of the hardest and most significant issues of Christian concern, producing one of the most honest, faithful, and helpful volumes ever made available to thinking Christians. It is filled with pastoral wisdom, theological conviction, biblical insight, and spiritual counsel. This book answers one of the greatest needs of our times—to affirm the sovereignty of God and to ponder the meaning of human suffering. We need this book."
R. Albert Mohler, Jr., President, The Southern Baptist Theological Seminary, Louisville, Kentucky
Have you read this book? What do you think about it? Why not vote or leave a comment?