fCr rating:

Berean Bible Study Freeware (BerBible)
main website
A simple bible software package for your PC
People often have a tendency to add more and more features to software to make them seem more powerful, when actually they just end up being bloated and confusing. BerBible's aim is simply to be … simple! This is a refreshing change and their bible software would meet the needs of most people. 'Simple' does not mean BerBible is rushed piece of software that doesn't do much, rather it focuses on the key things many people need from bible software and aims to provide it.
This helps BerBible to achieve its aim of being an inclusive piece of software for those with low computer skills, or an older slow computer. One of the driving motivations behind BerBible is that people across the world will easily be able to access it. It is also completely free, due to a mixture of Lynn Allan's dedicated design and generous publishers allowing no cost downloads.
Installing
Installing BerBible is easy, and just like any other PC application. Due to its small size (depending on how many bible translations you add) it is quick to download and you don't necessarily need broadband. It can also be installed on a memory stick so that you can use it on other computers.
As well as the PC version there are also versions for Pocket PCs and Palms.
Translations
As BerBible is free it does not have every translation you may be after. However it does have the ASV, BBE, ESV, NASB, NET, NKJV, KJV, BBE, WEB and YLT. Also in non-English it has the Russian Synodal (RST) and the Ukrainian Bible. I tend to use the ESV of NIV, so to have he ESV is great.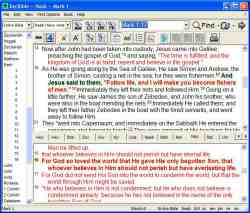 Layout
The layout is basic and simple. It is reminiscent of eSword, but due to the fact there are no dictionaries or commentaries it is less overwhelming. On the left is a menu of the books of the bible. Not surprisingly the main area of the screen is taken up by the bible verses themselves. Also, you can open a small reference section at the bottom of the screen which can double up as a parallel bible.
Searching
If you know the verse you are looking for you can use the left contents tab of the bible and scrolling through the books of the bible.
You can also search for specific word/s using the search box. This works as you would expect – but can produce the results very quickly. When you search the results are shown in the left box for you to look through. All of the verses are also shown on the initial results page with the words highlighted that =were searched.
Copy & Paste
A key part of BerBible's usability is copying and pasting into another application such as word. This can save you have to retype large parts of the bible or risk making mistakes! One feature of eSword that would be useful here would be the option of adding the verse reference alongside the text when it is pasted into another application.
Summary
All in all BerBible achieves its aims very well. The latest version was released in December 2008, and there are further plans to improve the functionality including cross referencing, strong's numbering, parallel bibles and much more. These would be welcome additions to a bible program that really fills a niche in the software market.
Indeed because it is so easy it is often used by people that have more powerful bible software options when all you need is a quick search through the biblical text.
This review is based on version 2.50.2